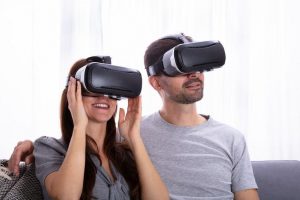 With the help of technology, we are able to access a wealth of information with the swipe of a fingertip. These technological advances have helped reshape many different businesses, including real estate.
Potential homebuyers can view the entirety of a home through the convenience of their smartphone or laptop. While virtual tours have become increasingly popular, it is essential to know what to look for in a quality home tour.
Here are a few tips for taking a virtual home tour & its advantages:
Not All Virtual Tours Are Created Equal
3D Walkthrough/ Rendering
Typically a 3D walkthrough is a virtual tour created with a 3D digital rendering of the property. It is more of a digital drawing of the home, which gives the viewer a sense of the space and how they can manipulate it. The downside to this type of tour is that it is not exactly realistic. Viewers will not be able to see the details that make the house stand out.
Video Tour
A video tour refers to a video that is shot by the real estate agent or cameraman. This type of tour is a video walkthrough of the house which will show the house but may not give the viewer all aspects. Because the viewer cannot control or navigate through the house on their own, they will have to view the home through the eyes of the cameraman.
360 Virtual Tour
This tour provides potential home buyers with a 360 view of the home. They are able to navigate the house and view it in great detail. By clicking the navigation cues, they will be able to "walk" through the property at their own pace and get a view from all angles. The 360 view provides panoramic viewing as well as a variety of other angles that help the viewer genuinely get a feel for the home. This is one of the best types of virtual tours because of the detail and ease of use.
Advantages of virtual tours:
Buy From Anywhere
Gone are the days of traveling all the way to a property only to find out it is not the right one. With the use of virtual tours, potential buyers are able to view homes in great detail to ensure they like the house before ever setting foot on the property. This is also great for out-of-town home buyers. Moving to a new area can be hectic; the help of virtual touring can help you find the right home before you make a big move.
Save Time
Home buying is a very time-consuming task. In today's world, most people are busy juggling a variety of tasks like work, school, and balancing home life. Virtual tours give home buyers access to view homes from anywhere at any time, so they don't have to worry about fitting a showing into their already busy schedules.
Easily Accessible
Buying a home is a significant purchase and milestone for many people. Many home buyers want to revisit their potential new home a few times before making a decision. While most real estate agents won't host multiple viewing for one buyer, virtual tours provide instant accessibility. Buyers are able to view the home as frequently as they like.
Smith & Co. Real Estate Marketing Professionals LLC has been providing real estate and auction services in Northwest Oklahoma and surrounding areas for over 30 years. We offer 360 virtual tours on many of our listed properties. Browse our available residential properties and contact us to learn more!