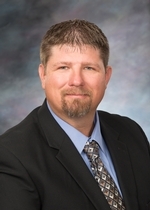 580-254-3975 Ext. 5

580-273-3202 cell phone

1102 Oklahoma Ave
Woodward OK, 73801
Receive Email Alerts from Me
Buck Hutchens is a lifelong resident of Vici, Oklahoma. He is a 1997 graduate of Vici High School, a 1999 Clarendon College graduate with an Associate's Degree in Ranch & Feedlot Management, and a 2001 graduate of Oklahoma Panhandle State University holding a bachelor's degree in Agribusiness with minors in Agronomy and Animal Science. Buck joined Smith & Company in 2004 as a Real Estate Sales Associate & Auctioneer and is a graduate of Texas Auction Academy and the Professional Ringmen's Institute.  Buck pursued his broker's licence and in January 2019 was named Managing Broker of Smith & Co. Real Estate Marketing Professionals, Inc.
Buck is very actively involved in our community. Currently, he is an Assistant Chief of the Vici Volunteer Fire Department and has served as a Volunteer Firefighter for 16+ years; Secretary of the Northwest Oklahoma Range Fire Association and member for many years; Chairman of the Vici Education Foundation;  Vici Chamber of Commerce member; Shattuck Chamber of Commerce member; Oklahoma Cattlemen's Association Lifetime member; serves on the Board of Directors of the Northwest Cattlemen's Foundation and is a Lifetime Member; serves on the BCD Leadership Committee;  member of the Oklahoma Auctioneer's Association and the National Auctioneer's Association.
Some of the awards Buck has been honored with include:
Natural Resource Conservation Service - District Cooperator of the Year 2014
Oklahoma Auctioneers Association Pro Bid Calling Contest Top 10 Qualifier 2018, 2017, 2016, 2015
Professional Ringmens Institute Graduate
Texas Auction Academy Graduate
In addition, Buck is owner/operator of a commercial cow/calf operation.  Buck's greatest joy comes from time with his two sons Ethan & Tate.  He has never met a stranger and enjoys meeting new people. He is always willing to assist in meeting their needs. Buck's diverse knowledge has made him a very valuable asset to our organization and our community.  
Buck Hutchens 's Listings