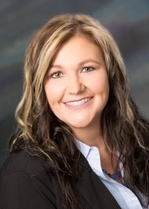 580-254-3975
580-254-3535 fax
580-334-5229 cell phone

shanda@smithcorealestate.com
1102 Oklahoma Ave
Woodward Oklahoma, 73801
Receive Email Alerts from Me
Shanda Aldrich grew up in Denton, Texas, and graduated from Krum High School in 1999. She is married to Jason Aldrich and has one daughter, Mackenzie. Shanda enjoys the quiet country life with her family and dogs. 
As a former small business owner, Shanda knows what it takes to begin with something modest and build it into something special. An antiques enthusiast with an eye for style, Aldrich and husband, Jason, started the Dancing Badger Trading Company in Shattuck, OK in the Fall of 2014.  After several years of successful antiques trading, Shanda and her husband added in a coffee shop to the downtown.
Shanda combines the best of both worlds with a small business acumen that only those who have operated a business can offer, as well as the decorator's eye to stage a house or business. Aldrich has the unique ability to envision what properties could be, as only one with a creative eye for design could do. Shanda says 'It's all about potential...in houses, in properties, in businesses, in people'!
Whether commercial or residential, Shanda is ready to help you showcase an existing property, find a dream home, or envision a successful business for you and your family!