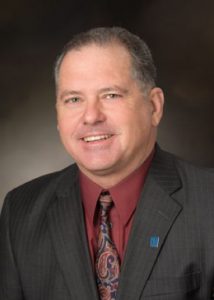 580-254-3975 Ext. 1
580-334-6001 – cell phone
1102 Oklahoma Ave
Woodward OK, 73801
Ira Smith was born and raised on a small farm north of Mooreland, Oklahoma.  It was at an early age that he fell in love with tractors and quickly developed a love for the land.  At the age of 14, Ira began working for area farmers and ranchers and quickly learned how to operate multiple different types of equipment.
Ira graduated high school in 1980 and began his college career in Shawnee at Oklahoma Baptist University.  He later attended Northwestern Oklahoma State University in Alva, Oklahoma and Oklahoma State University in Stillwater.  During Ira's college career he completed auction classes, marketing classes, soil classes and many different other agriculture related studies.  On the weekends and during the summer he worked auctions throughout northwest Oklahoma and the Panhandle.  This is how he received his start selling everything from farm equipment and heavy machinery to real estate.   Ira received his real estate license in 1983, graduated from Oklahoma State University in 1985 and in 1987 Smith & Company was formed.
Ira's most recent accomplishment is the completion of his Auction Technology Specialist (ATS) designation in 2012.  ATS is a program which trains auction professionals to enhance their services to customers through coursework which focuses on lead generation and prospecting, internet marketing, websites, inventory management, image hosting, and computer marketing strategy.  To maintain this designation, Ira must complete 24 additional hours of continuing education courses every three years.  As an ATS graduate, Ira is among less than one percent of auctioneers throughout North America with this specialized training.
Ira is very involved with community and loves to 'give back'.  He conducts many benefit auctions throughout the area some of which include the Mid-day Ambucs annual benefit auction, NW District NRA banquet and auction, OSU Posse club annual fund raiser auction, Woodward Chamber of Commerce annual benefit auction, and many surrounding area 4H and FFA trophy auctions.
Ira has held offices such as Past President and Board Member for the Oklahoma State Auctioneers Association, Longtime Member of the National Association of Auctioneers, Past President and Board Member for the Board of Education Mooreland, OK, President and Board Member of the Mooreland Economic Development Organization since 1997, Chairman of the Board for the Woodward Industrial Foundation, currently serving as Chairman on the Woodward Hospital Board and the Board of Directors for the Woodward Chamber of Commerce.
Ira has also been fortunate to receive several awards including:
2016 Citizen of the Year
2012 State Auctioneers Association Hall of Fame
Recipient of the Black Jacket Award for continued support and contributions to the Woodward District   Premium Livestock Show
Voted Best of the Best Auctioneer by the Woodward News every year consecutively from 2001 through 2012
Voted Most Popular Real Estate Agent 2001 and 2012
Received the 2010 High Plains Technology Partners for Progress award from the Oklahoma Association of Technology Centers
2006 Best Color Advertising Contest Winner at the Oklahoma State Auctioneers Association Convention
Honorary Chapter Member of the Mooreland FFA