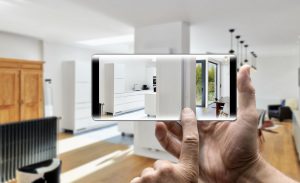 In the age of laptops, tablets, and smart phones, real estate buyers are relying more and more on the Internet in their preliminary search for the perfect property. For sellers, that means your online listing is your first (and best) chance to pique interest on the market.
As prospective buyers are scrolling through the dozens of houses for sale in your area, it's the pictures that will be capturing their attention. If you want your listing to stand out above the rest, use these tips to take killer photos of your home!
1) Clean and stage your house ahead of time.
Your listing photos are your home's first impression on potential buyers, which means they need to showcase your space at its best. Before you get your camera out, take the time to get your house ready the same way you would for an in-person showing. Go through each room and deep clean, declutter, and depersonalize to get rid of that lived-in look (outside and inside!). Then, stage your furniture and décor to make your space look inviting and highlight the best features of your home.
2) Choose your angles and positions wisely.
Taking attractive photos that display your space honestly is all about angles and positioning. If you have a wide-angle lens, it's going to be your best friend when it comes to showcasing the size and layout of your home accurately while getting a full feel of each room. If you don't have one, shoot from the doorway or corner to capture as much of the room as possible.
Keep your camera at chest height and shoot straight on. Angles that are too high or low can distort the scale and misrepresent the size of your space. Plus, it will help viewers feel like they're actually in your home when they look at your pictures.
3) Lighting is everything.
Natural light makes a home feel warm and inviting—something you'll want to take advantage of for your listing pictures. Plan to take your interior photos when the natural light is best in your space (this could be in the morning or later afternoon, depending on which direction your house faces). Clean your windows until they sparkle and open your curtains to maximize the amount of sunlight streaming through. You should also turn on all interior lights, to show viewers that they work.
For exterior shots, just make sure the sun is positioned behind your camera to illuminate your property without casting shadows in your photos.
When you work with Smith & Co Real Estate to sell your home, our professionals will guide you through every step of the process.
Not only will we help you take killer listing photos, we'll help you market them, nail the showings they bring in, and get you the best offers for your property. Contact us today to learn more about how our realtors can put their 60 years of combined industry experience to work for you and your home!