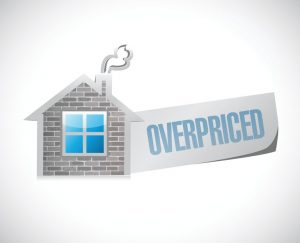 After taking all the right steps and following all the best tricks to prep your house for the market, you expected to be closing within a matter of weeks. Fast forward a month or two later and you still haven't had anybody want to buy it. What gives?
There are plenty of reasons your home might not be generating interest on the market. One of the most common rookie mistakes that first-time sellers make though is pricing their property too high. Take a look at these signs of an overpriced home and ask yourself if your property fits the bill.
Your offers are nonexistent.
Most homeowners who put in research, time, and money to get their house ready for the market will receive a competitive offer within a few weeks of listing. If you've passed that threshold and haven't had a single offer, then it might be the price tag that's putting people off.
Similar homes in your area are selling, but yours is not.
It can be frustrating to see buyers pass on your home again and again while a new house on the block seems to sell every week. Different factors can impact different home sales, even in the same neighborhood, but if nearby homes are constantly selling and yours hasn't seen any movement, you've probably overpriced. Check out listings for comparable homes in your area. Are most of them priced lower than yours? Even the newer ones? Then it might be time to take it down a few dollars (or more!).
Showings are few and far between.
Have you had no showings at all in the first few weeks after listing? Or has the number of interested calls you receive been dwindling? Limited interest in seeing your home in person can often mean you're listed way over the price range of your ideal prospective buyers. Try asking those who do attend a showing for some feedback. If your price is too high, they'll probably mention it.
Deciding on a listing price for your home can be tricky. You don't want to price it too high and scare off potential buyers, but you also don't want to price it too low and leave money on the table. With the expertise and experience of Smith & Co Real Estate Marketing Professionals on your side though, you're sure to hit the bullseye perfectly! Let our agents guide you through your home sale and share with you all their secrets for selling at top dollar.
Contact us today for a quick and profitable sale for your Woodward area home!