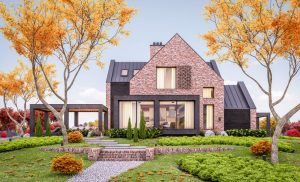 If you've recently decided to sell your home, a lot of people will tell you that the best time to list is spring or early summer. While the real estate industry does tend to be busier this time of year, that doesn't mean you can't make a great sale during the off-season!
Just like in any other season, one of the most effective ways to attract buyers to your home in the fall is by upping your curb appeal. Take a look at how you can take advantage of the season's unique beauty to score an offer!
1) Keep up with falling leaves.
Buyers may love the vivid colors of fall foliage, but they won't love looking at how much raking they'll have to do if they buy your home. If your home will be on the market this fall, make sure you're raking your front and back lawn regularly. Oh, and don't forget to remove leaves from your gutters too!
2) Clean your home exterior.
Fall is the perfect time to give the exterior of your home a good wash before winter weather (and the grime that comes with it) sets in. Wash your siding, shingles, front door, windows, and your exterior lighting too. Sparkling windows will maximize your home's natural light, while freshly cleaned landscape lighting will keep your property illuminated when darkness starts to set in earlier.
3) Embrace the season—but don't overdo it.
A little fall color, décor, and a few cozy touches to your entryway will help buyers see your home as a place they can curl up in when the seasonal chill sets in. Too many fall decorations, however, will just distract from your home's features and overwhelm the senses. A few potted fall flowers, a simple seasonal door wreath, and a flannel blanket draped over a rocking chair is as far as you need to go.
4) Don't fall behind on landscaping.
Leaves aren't the only threat to the appeal of your landscape this time of year. There's a lot of dead plant growth during the fall that you'll need to keep trimmed back and out of sight. Also, just because it's colder doesn't mean you can let your lawn grow wild. It's important that you still maintain a freshly mowed and edged lawn to give your house a clean, well-kept look.
The seasons may change but one thing that will always remain the same when it comes to selling your home in Woodward, OK, is that Smith & Co Real Estate is your number one resource for the quickest, most valuable sale. Contact us today to get started with one of our local agents!