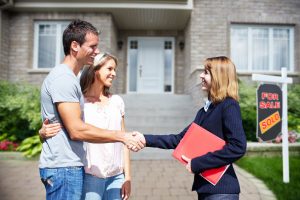 When you go through the process of buying or selling a home, your real estate agent is your number one resource and the key to your success. Your agent should be able to guide you through the nuances of the local market, understand your needs, and help you implement the right strategies to meet your goals.
But with so many agencies and realtors out there, how do you possibly narrow it down to the right person for you and your current or potential home? We've gathered some of the best advice below to help you make your decision!
Start with some independent research.
The easiest way to start your search for an agent is by looking into local agencies and independent realtors online. Read customer reviews to get an idea of what it's like to work with the different agents you find and check their websites for listed experience, licensing, and other standout qualifications. You can also ask friends (on social media and in person) for referrals of agents with whom they've had a good experience.
Meet with potential candidates.
Once you've narrowed it down to a couple of your top choices, you should meet with potential agents in person to get a better sense of their personality and professional style. Ask a few questions that will help you determine if they're prepared to meet your unique needs, such as:
How long have you worked in the local real estate market?
What is your average list price-to-sale ratio?
Do you work more often with buyers or sellers?
What is the average Days on Market for your listings?
How many clients do you typically work with at a time?
Can you provide any references?
Choose someone you connect with.
For the best experience and results buying or selling a home, you need to work with an agent who makes you feel comfortable voicing your questions and concerns. They should communicate with you openly and frequently, so you never feel overly stressed or lost during the process. You should feel confident that your agent fully understands your expectations and will do what's best for you and your current or future home.
Looking to buy or sell a home in or around Woodward, OK? The agents at Smith & Co Real Estate are prepared to do everything it takes to find the right buyer for your sale or new property for you and your family. With our extensive experience and bonafide success rate, there's no one better to guide you through the local market.
Give us a call at 580-254-3975 so we can get you started with the right team member!